Flight Booking Affiliate, Travel Affiliate, White Label Affiliate, B2B Affiliate, Hotel Booking Affiliate
White Label Affiliate, Travel Affiliate, B2B Affiliate, Hotel Booking Affiliate, flight Booking Affiliate
Travel Affiliate Advantages
Our Travel affiliate networks is connected to GDS and Providers with affiliate programs, in order to, allow them to promote travel-related offers.
Nowadays, we have all the amenities that help us travel faster and more comfortable. Therefore, there is little or no reason preventing people from traveling, be it for work or leisure.
Affiliate marketers make your income from commissions. so, It is only logical for you to go for affiliate programs that pay a higher commission.
The travel sector is so competitive with loads of resellers competing for the same highly considered purchases so branding is key. however,  clients need to trust the brand and clearly understand the advantages of booking with that company over another. Strong relationships with key publisher s can add even more legitimacy to a travel company, speed up word of mouth and greatly increase reach.
Travel White label Solution
There is a huge variety of travel affiliate programs out there to choose from. However, you need to ensure you partner with the brands that reflect your own mission and values. Only select organizations that suit the interests of your readers or clients.
Travel is a diverse category, so consider your target audience or customer. Whatever your niche is – be it adventure travel, unusual places, or a specific region – partner with brands and businesses whose products or services complement this. For example, if you write for budget backpackers, you shouldn't affiliate with a high-end product brand. Families seeking kid-friendly package holidays have very different requirements from luxury honeymooners.
Sticking to a niche in travel is the best way to ensure that your affiliate content reaches the right audience. From there, you can offer specific services or create specific content that will be beneficial to your customers.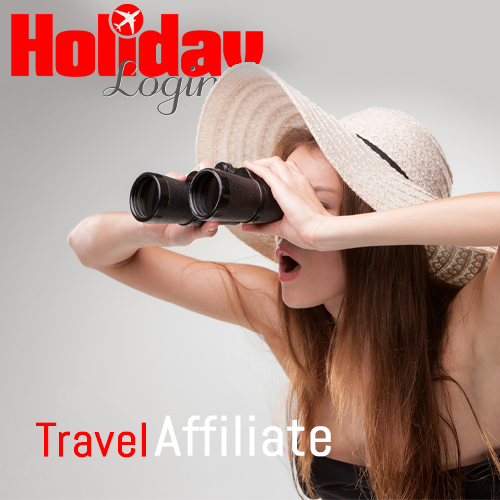 Affiliate Links
Affiliates typically promote tourism products and services on YouTube and their websites.
For those agents who want to use one of our pre-built websites with their own logo and brand. This service allow agents to have their own search engine and use HolidayLogin's inventory of Hotel, Flight, Tour and Car Rental. and also use their dedicated admin panel to customize their interface.